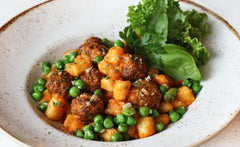 A one-pot meal is the perfect recipe for culinary beginners and busy working adults. Created by Chef Mauro of Prego, our Beef Meatball with Gnocchi is fuss-free, rich in Italian flavours and great for sharing.
This recipe serves 2.
Ingredients: 
150gm Diamantina Beef Mince
300gm Homemade Gnocchi
200gm Tomatoes
80g Banana Shallots
1 litre Water
100gm Fava Beans
100gm Green Peas
1 tbsp Olive Oil
1 sprig Basil
3 sprigs Thyme
100gm Parmesan Cheese
Salt (to taste)
Method:
1. Add salt and pepper to your taste to the beef mince, mix well, form 30-40gm meat balls and pan-fry on medium high heat till golden brown, set aside.
2. Sautee onions with olive oil, add 3min later diced tomatoes, add 400ml water, simmer down till thick consistence. Add thyme and pan-fried meatballs and set aside.
3. Boil water with salt to boil the gnocchi's. Blanch gnocchi and remove once they coat to surface. Drain in a colander. Toss with olive oil to prevent sticking.
4. Heat up pan on medium high heat. Pan-fry gnocchi till golden brown and crispy. Season with salt and pepper. Add in fava beans, green peas and sauté́. Toss in your tomato sauce and meat balls.
5. Transfer to a plate, garnish with basil and grated parmesan cheese before serving.
Share and tag us in your creations on Facebook or Instagram.