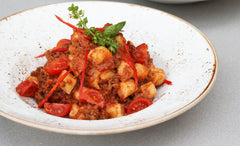 Looking to cut back on meat consumption or making the transition to a vegetarian lifestyle? Our Impossible Meat Bolognaise Sauce & Prego Gnocchi is so satisfying and delicious that you won't even notice that it's meatless.
Ingredients: 
Water
Olive oil
100gm Tomato paste
1 pc Chili (sliced)
40gm Parmesan Cheese
200ml Vegetable Stock
1 sprig Basil
Black Pepper
Salt
Method:
1. Boil water with salt for cooking
Gnocchi
.
3. Heat sauté pan to medium high heat. Fry Impossible meat to golden brown, add in tomato paste, roast till slightly brown, add vegetable stock, then add in sliced chilli, cherry tomatoes. Bring to simmer and set aside.
4. Blanch gnocchi in salted water until they float to surface. Strain and transfer to simmered mixture. Sauté and season with salt, pepper and basil.
5. Transfer to a plate and garnish with parmesan and basil.