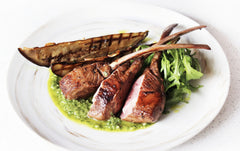 Lamb shoulder chops are one of the most inexpensive cuts of lamb, and slow-cooking them is the best way to get that nice lamb flavor. 
Our recipe by Fairmont Singapore and Swissôtel The Stamford promises a hassle-free cooking experience with this beautiful meat at the comfort of home.
This recipe serves 2.
Ingredients: 
6 pcs Lamb Chops
200gm Eggplant
100gm Veal Sauce or Green Peppercorn Sauce
3 piece Baby Romaine Lettuce
Salt (to taste)
Black Pepper (to taste)
Method:

1. Remove lamb chops from the bag and lightly wipe off, then season.
2. Preheat pan on medium high heat.
3. Sear lamb chops till golden brown for about 1 minute on each side. Transfer to a plate and rest the lamb chops for 4 minutes.
4. Pan-fry eggplant and baby romaine lettuce on full heat and finish the eggplant in oven at 160 ̊C for 5-6 minutes.
5. Reheat in small sauce your preferred sauce.
6. Arrange lamb chops on plate with eggplant and baby romaine lettuce on top, drizzle your preferred sauce around and slightly on top of the lamb chops.


Share and tag us in your creations on Facebook or Instagram.