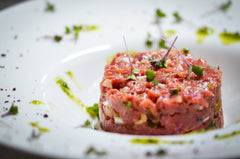 Elevate your dining at home with this sensory delight! 
This recipe serves 2. 
Ingredients for the Sauce:
Other Ingredients Required:
480g Beef Fillet
2 Slices of Sourdough Bread, toasted
Seasoning
Cayenne Pepper, to taste
Salt, to taste
Pepper, to taste
Preparation Method:
Chop the capers, gherkins and banana shallot finely and set aside in a bowl
To prepare the sauce, add and mix the olive oil, egg yolk, chopped parsley and mustard into the chopped ingredients
Season with salt and pepper
Slice up the beef fillet into small cubes before chopping them finely
Mix the chopped beef and the sauce together. If you would like your beef tartare with more spice, feel free to add pepper or tabasco to the mix
Toast 2 slices of sourdough bread and serve it together with the beef tartare
Share and tag us in your creations on Facebook or Instagram.