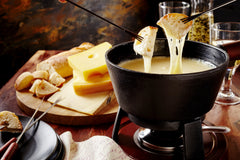 Experience the delectable charm of Swissôtel The Stamford's renowned Cheese Fondue in the comfort of your own home with Fairmont At Home. This iconic dish captures the essence of Swiss culinary tradition, offering a delightful blend of flavors and textures that make for an unforgettable dining experience.
Whether you're entertaining guests or seeking a cozy night in, this cheese fondue recipe promises to elevate your culinary journey.
This recipe serves 2.
Ingredients
420g Gruyère, grated finely
420g Comte, grated finely
15g Cornflour
30ml Sweet Manzanilla Sherry
2 sprigs, Thyme
3 cloves Garlic, bashed
500ml White Wine
20ml Lemon Juice
5g English Mustard Powder
Pinch of Ground Cloves
Method
In a bowl, mix the grated cheeses with the cornflour.
Bring the sherry to a simmer in a small saucepan over a medium-high heat. Add the thyme and garlic then remove from the heat and leave to infuse for 10 minutes. Strain and allow to cool.
Bring the wine and lemon juice to a boil in a medium saucepan, and add the cheese, a handful at a time, whisking continuously until smooth and creamy.
Add the infused sherry, mustard powder and ground cloves to the cheese and wine and continue to whisk until the fondue thickens.
Note: Other cheese variations to consider can be Emmental Cheese or a strong flavoured Cheese like Cheddar. Do not use Raclette Cheese or trimmings as this will make your fondue mix hard.
*Images are for illustration purposes only