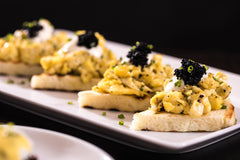 Surprise your sweetheart with a beautiful and intimate meal, made with love and care this Valentine's Day! 
Serves 2
Ingredients:
2 Egg Yolk
Olive Oil
10g Chives, chopped 
Black Pepper, freshly grind to taste
Sea Salt, to taste  
Garnish:
30g Kaluga Queen Schrencki Caviar
Sourdough Bread, sliced & toasted 
Preparation Method:
1. Whip the cream until semi stiff peaks are formed. Add salt, chopped chives and fold gently with a rubber spatula. Set aside in the fridge. 
 2. In a bowl, mix 4 whole eggs with 2 egg yolks and salt to taste. Gently mix well with a whisk and set aside.
3. Put a little bit of olive oil in a pot, add the eggs to make scrambled eggs. 
4. Once desired consistency is achieved, remove slowly with a spatula.  
5. To assemble, put the scrambled eggs in a plate and a spoon of chives cream quenelle on the top. 
6. Finish off with the caviar and serve with toasted sourdough bread on the side.  
*Images are for illustration purposes only