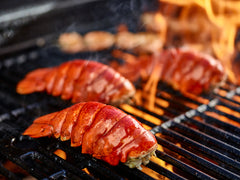 Celebrate your love this Valentine's Day with a special meal made at home with ingredients from Fairmont at Home. Our delicious and romantic recipes are easy to prepare and perfect for a cozy night in with your significant other!
Serves 2
Ingredients: 
2pcs Lobster Tail
10 pcs Black Mussels
100g Butter, Unsalted
3 Cloves of Garlic
100ml White Wine (for cooking)
Sea Salt, to taste
Black Pepper, freshly grind to taste 
30ml Olive Oil
200g SKAI Signature Green Peppercorn Sauce
Preparation Method: 
1. Defrost lobster tail and mussels. Remove from packaging and pat dry with a kitchen towel. 
2. Place lobster tail on chopping board. Slit the lobster from the back, de-vein and clean gently with a kitchen towel. 
3. Wash and rinse the mussels with cold running water to remove dirt. Strain the mussels and set aside.
4. Season the lobster tail with sea salt, black pepper and a teaspoon of olive oil. Set aside.  
5. Prepare a non-stick pan and place on high heat. Add olive oil to pan, followed by garlic and mussels. Stir and deglaze with white wine. Set aside. 
6. Brown 50g of unsalted butter in the non-stick pan and add SKAI green peppercorn sauce. Add water if needed and set aside for later use.  
7. Prepare a non-stick pan or charcoal grill and bring to high heat. Grill the lobster tail (meat side down) for 1 minute and flip over to grill for another 1 minute.  
8. Brush the lobster with black pepper sauce and grill for a few more seconds before removing from the pan/grill. 
9. Assemble the mussels followed by the lobster on a casserole or plate. 
10. Bring the sauce to boil and drizzle over the dish. Serve with toasted bread on the side. 
Share and tag us in your creations on Facebook or Instagram.
*Images are for illustration purposes only