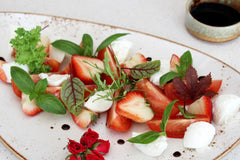 Put together a refreshing salad in minutes with this quick and easy Tomato & Strawberry Salad. Savour the sweet flavours of tomatoes, strawberries, complemented by mozzarella cheese; basil pesto and aged balsamic dressing.

Serves 4.

Ingredients:
4 pcs Roma Tomato (sliced) or 200g Red Vine Cherry Tomatoes 
8 pcs Strawberries (sliced)
2 pcs Mozzarella Cheese (sliced)
2 sprigs Fresh Basil
120g Salad Leaves
100g Basil Pesto
1 tbsp Olive Oil
25ml Aged Balsamic
Sea Salt (to taste)
Preparation Method:
Slice tomato, strawberries and mozzarella to your desired thickness. Arrange on a plate.
Dress the salad with pesto and basil leaves.
Finish off with olive oil, salt and aged balsamic.
Ready to serve.
Share and tag us in your creations on Facebook or Instagram.