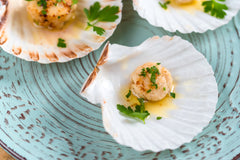 Instead of heading out for a fancy dinner for two, show off your culinary skills and whip up a delicious meal at home for that special person of yours this Valentine's Day! 
Our recipe by Fairmont Singapore and Swissôtel The Stamford promises a hassle-free cooking experience at the comfort of home.
This recipe serves 2.
80ml Extra Virgin Olive Oil
15g Sugar
30ml White Vinegar
Salt & Pepper to Taste
Preparation Method:

1. Defrost the scallops overnight and then place on a piece of kitchen paper on a tray in the fridge to absorb any excess water
2. To make the gastric, combine the vinegar, puree and sugar and bring to a boil.  Season lightly with salt and pepper and then reduce by half, check the taste and reserve on the side to keep warm
3. Slice the radishes into Julienne or matchstick shapes. Place into a small bowl with ice cubes and water to refresh and remove the bitterness. Repeat the same step for the apples
4. Wash the raspberries and cut them into half. Place into a small bowl and drizzle 1/3 of extra virgin olive oil. Season with a pinch of salt and mix in the drained radishes and apples. 
5. Prepare a non-stick pan and place on a high heat.
6. Drizzle some of the extra virgin olive oil on the pan. Once the oil shimmers,  place the scallops. Do not crowd them as it is better to cook in 2 batches if pan is small.
7. Allow the scallops to cook on the first side for 2 minutes until nicely browned,  then turn and repeat on the other side. 
8. Drop in the butter and spoon over the scallops to create a rich finish. Season with salt and pepper and squeeze the lemon juice over. 
9. Place the scallops onto the plate and then garnish with the raspberry salad and drizzle some of the remaining oil around the dish. 
10. Enjoy!
Share and tag us in your creations on Facebook or Instagram.