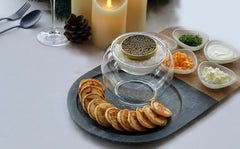 A good appetiser will impress your guests while preparing your palate for the main courses. This Christmas, why not indulge your family and friends with a luxurious appetiser with the finest ingredients: Caviar?
Our recipe by Fairmont Singapore and Swissôtel The Stamford promises a hassle-free cooking experience at the comfort of home.
This recipe serves 2-3.
Ingredients: 
30gm Caviar
1 piece Egg, hard boiled, separate the yolk, whites and chopped
10gm Chives, finely chopped
10gm Shallots, minced
25gm Crème Fraiche
12 pieces Mini Blinis
Ingredients for Mini Blinis: 
90gm Full Cream Milk
6gm Yeast
10gm Egg Yolk
30gm Egg white
70gm Flour
Salt (to taste)
Method:

1. Bring milk to warm and add the yeast and mix well. Set aside rest for 20mins.
2. In a mixing bowl put flour, salt, egg yolk, milk with yeast and mix well.
3. In another mixing bowl, whip the egg white with a drop of salt.
4. With a rubber spatula, add whipped egg white on to the batter mixture and fold gently. 
5. Put the mixture into a squeeze bottle (optional, you may use a ladle).
6. Heat up nonstick pan to medium heat, add some corn oil (oil spray preferred).
7. Make blinis between diameter of 2-3 cm diameter is preferred, cook only on one side till golden brown, set aside and ready to use.

Plating:
1. Transfer all ingredients to small dishes; excluding caviar.
2. Prepare some crushed ice in a bowl and present caviar on ice.
3. Present all together on a platter with mini blinis on the side.

Skip the hassle of preparing this dish by ordering it in advance for your festive celebrations here.
Share and tag us in your creations on Facebook or Instagram.