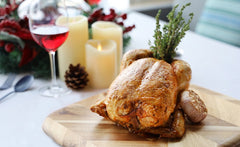 If you're after the best chicken recipe for Christmas day, this is the one. This Christmas chicken recipe is easy, simple, and perfect.

It's made with a few pantry ingredients so you don't have to stress about looking for fresh ingredients they might have run out of in the store.
Our recipe by Fairmont Singapore and Swissôtel The Stamford promises a hassle-free cooking experience at the comfort of home.
This recipe serves 2-3.

Brining solution for chicken:
1.2 kg Chicken, cleaned with giblets removed
2000 ml Cold Water, 3-5°C
200 gm Salt
Ingredients: 
1 tbsp Paprika
½ tsp Onion Powder
½ tsp Garlic Powder
2 sprig Fresh Rosemary, chopped
2 sprig Fresh Thyme, chopped
½ tsp Dried Oregano
50 ml Olive Oil
Salt (to taste)
Pepper (to taste)
Method:

1. For brine, dissolves salt in water and set aside. Soak chicken for 12hrs. Remove from brine and drip off excess water.
2. Combine all spices in a bowl and add olive oil lastly. Rub mixture on the chicken as well as inner parts (you may stuff with vegetables trimming like carrot, onion and celery).
3. Marinate chicken for 20mins in room temperature. Preheat oven to 160°C, bake the chicken for 40 - 45mins depends size of chicken.
4. Keep baste the chicken with its natural fats every ten mins. Remove the roast from the oven and rest for 15mins before slicing.
5. On separate sauce pan, transfer the jus from the roast. Bring to boil and add 200ml of cream and 2 spring of chopped rosemary. Season to taste with salt and pepper.
6. Slice the chicken to your desire and serve the sauce on the side.


Skip the hassle of preparing this dish by ordering it in advance for your festive celebrations here.
Share and tag us in your creations on Facebook or Instagram.