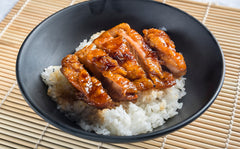 Teriyaki Chicken is one of the most popular and most lovable chicken recipe in Japanese cuisine. You can make this dish just by using a few ingredients in your pantry and then enjoy those mouthwatering chicken with the amazing teriyaki sauce.

Our recipe by Fairmont Singapore and Swissôtel The Stamford promises a hassle-free cooking experience with this beautiful meat at the comfort of home.
This recipe serves 2.
Ingredients: 
400g Chicken leg (boneless)
20g chop Banana shallots
500g Asparagus
200g Cauliflower
75g Soy Sauce
50g Mirin
50g Japanese Cooking Sake
20g Sugar
10g Grated Garlic
10g Grated Ginger
Method:

Poke the Chicken with a fork multiple times for the margination to soak in.
Marinate chicken overnight.
Set oven 200 degrees.
Roast the chicken in the oven for around 15minutes.
Peel/ clean and cut the Asparagus and Cauliflower into one bite size.
Blanch Asparagus and Cauliflower shock chill in ice bath
Heat a frying pan to medium heat and sauté the Asparagus and Cauliflower
Season to taste with salt, pepper, hint butter and add in chopped shallots last minute.
Share and tag us in your creations on Facebook or Instagram.