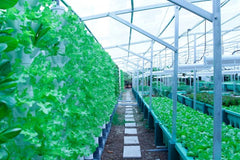 In 2019, Fairmont Singapore together with adjacent sister property, Swissôtel The Stamford, launched the industry's first urban aquaponics farm in efforts to meet the rising demand among guests for fresh quality produce and to support Singapore's goal of producing 30% of its nutritional needs locally by 2030.
The aquaponics solution at the hotels is the result of months of careful and thorough research, looking at the best possible way to meet demand among guests and consumers for fresh food; optimise limited space for growing produce; and to save water and minimise water wastage. Aquaponics combines aquaculture – the growing of fish and other aquatic life – with hydroponics, which is growing plants without soil. It is a sustainable, pesticide-free solution to traditional methods with substantially higher yields while requiring less water, space and labour.
It is a sustainable method in which a full meal can be grown, in just one system. Fish and vegetables grow together in an integrated system – fish waste is converted to nitrates, which the vegetables use as fertilizers; while the latter filter and clean the water for the fish, lowering the consumption of water as compared to soil gardening.
The 450 sqm. aquaponics farm will supply produce that'll meet an estimated 30% of vegetable and 10% of fresh fish needs across the Hotels every month. The produce grown are phased and are used in dishes and beverages at Skai, JAAN by Kirk Westaway, Prego and Asian Market Cafe.
Fairmont Singapore and Swissôtel The Stamford also source for sustainable produce where possible. We do not use endangered fish, and Fairmont Singapore was the first hotel in Singapore to stop serving sharks fin. We also work with local oyster farmers for SKAI's brunch concept; and unconsumed bread from breakfast service is given daily to local charity, Food from the Heart, which supports families in need.